Team Fly Halo 2016 European factory tour is complete!
Shane and I cleared our schedules and headed to Europe to meet up with SCOUT manufacturer and innovator Miroslav Svec, Team Niviuk in Spain, ParaJet in the UK, and Vittorazi Engines in Italy.  The tour started in Spain at the 2016 Las Candelas Paramotor fly-in located just outside the sleepy town of La Puebla.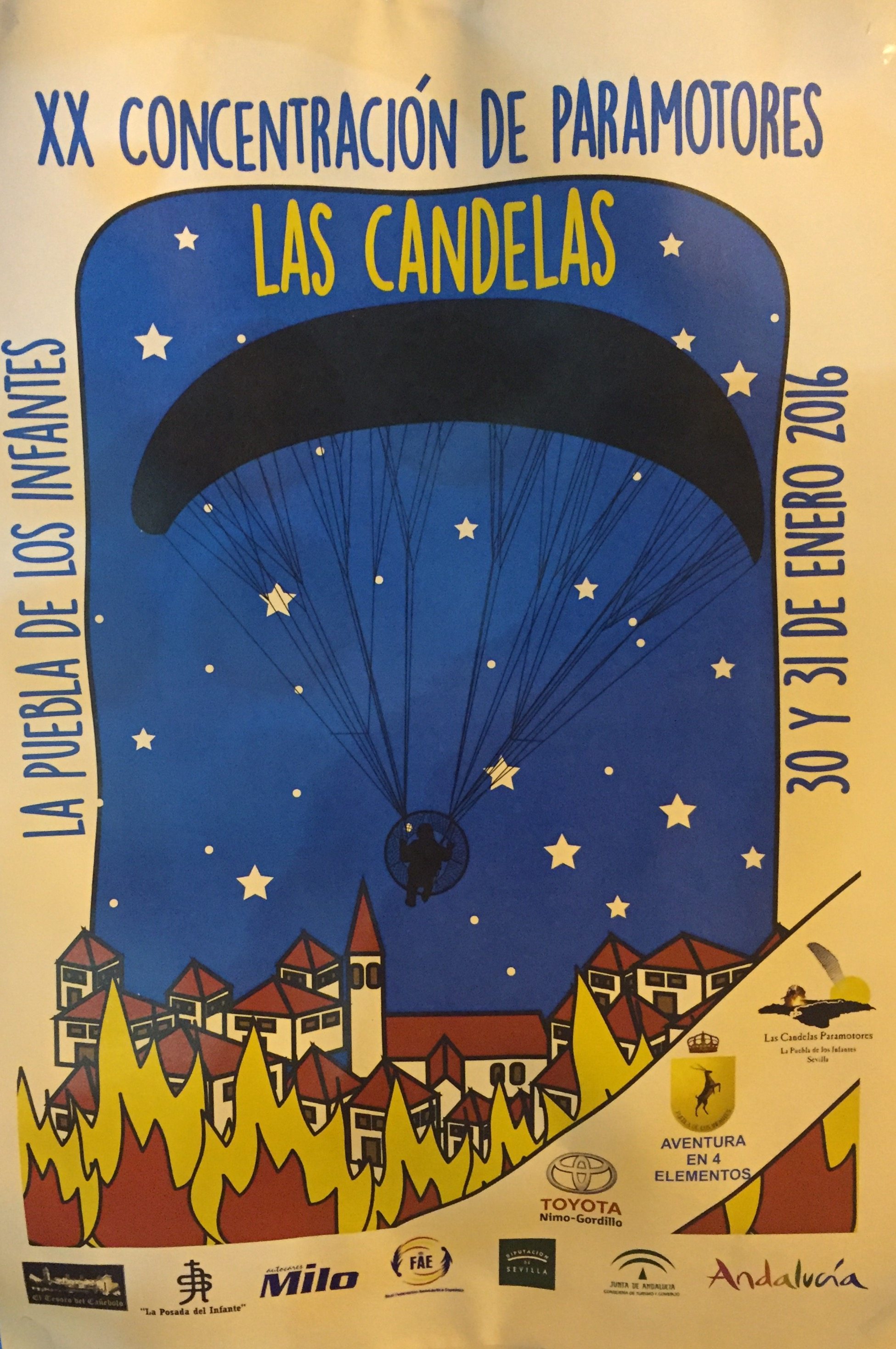 Known for being the first fly-in of the year in Europe, Las Candelas was a well organized event which included: a giant tent for PPG and food vendors, plenty of spectators, lots of flying demos, trike tandem rides, and plenty of amazing views and beautiful countryside to soak in while flying.  Miro was kind enough to ship two extra SCOUT Carbon paramotors for the weekend and we put them to good use.  We had a chance to get our hands on the Black Bull 235cc engine that was mounted on a SCOUT Carbon with a custom adjustable pitch propeller!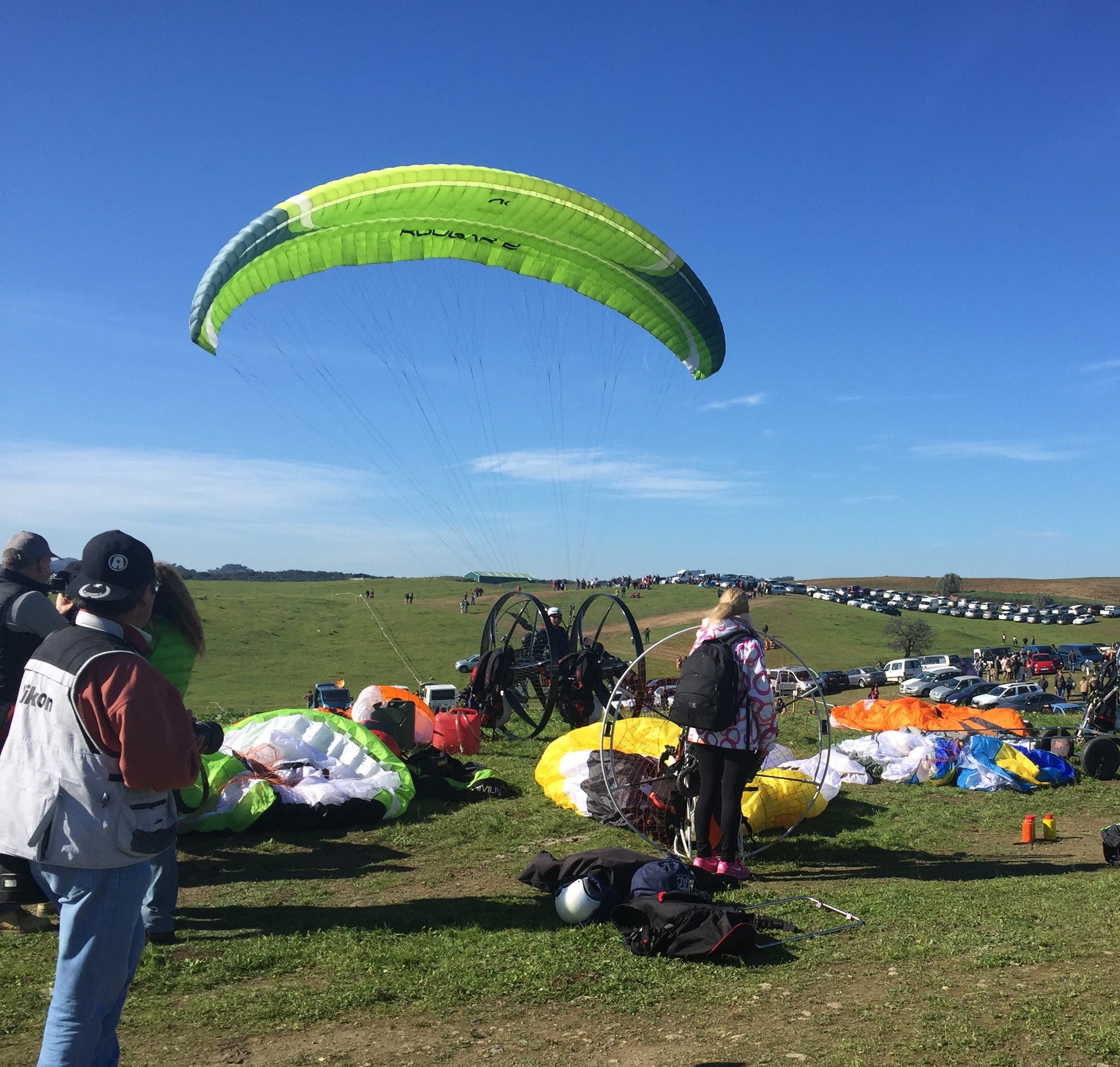 Once a year in La Puebla, the townsfolk pile huge stacks of olive wood throughout the streets.  The wood comes from local olive groves and is burned as an offering for the coming years harvest.  The whole town comes out in celebration lighting each pile of wood while handing out free hot chocolate and homemade treats to all!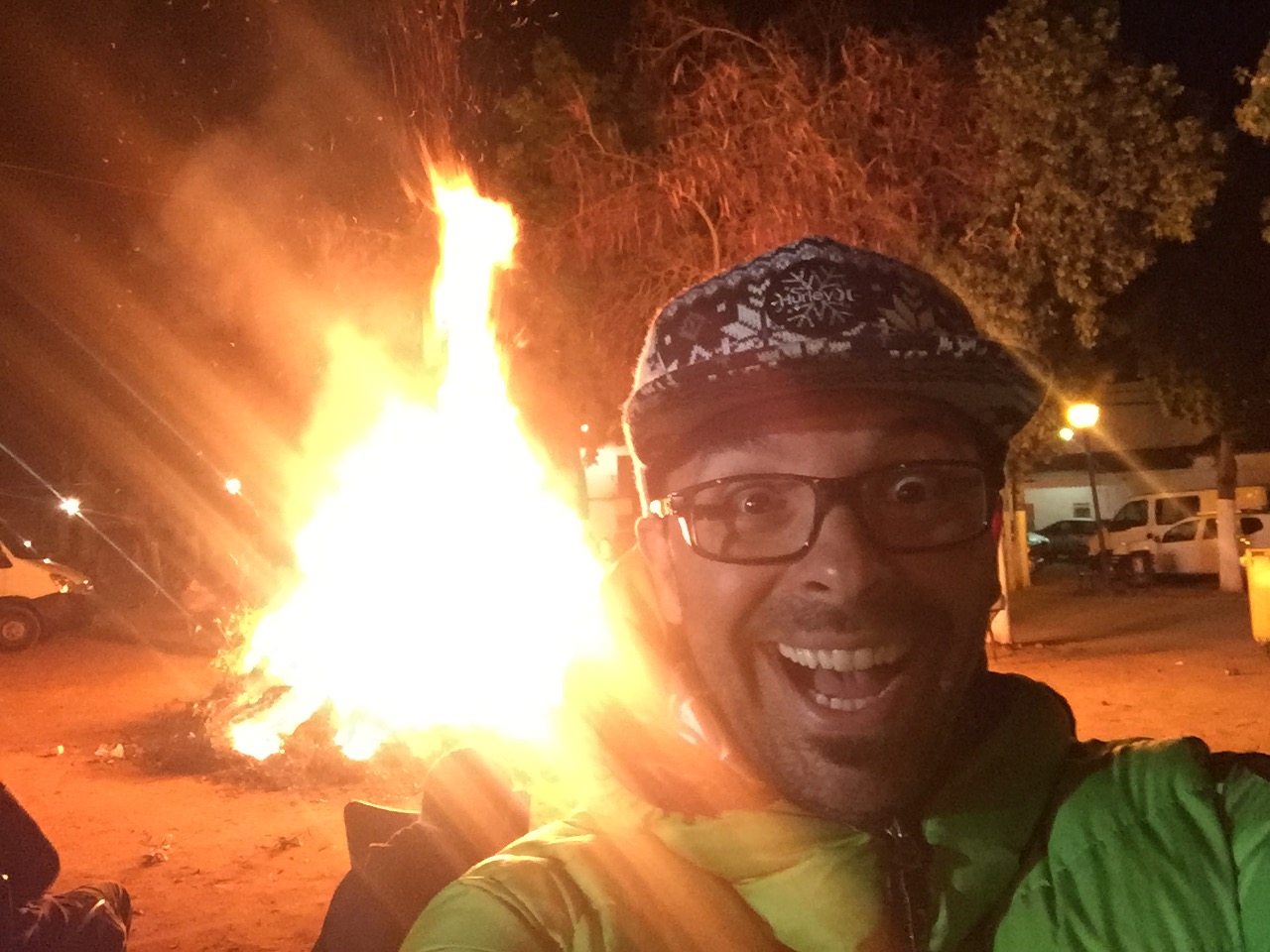 After getting our fill at Las Candelas, we were invited by Javier and Zahra to Cómpeta, Spain for a home cooked meal and great hospitality.  The grilled meats, local fruits, nuts, and brandy were out of this world.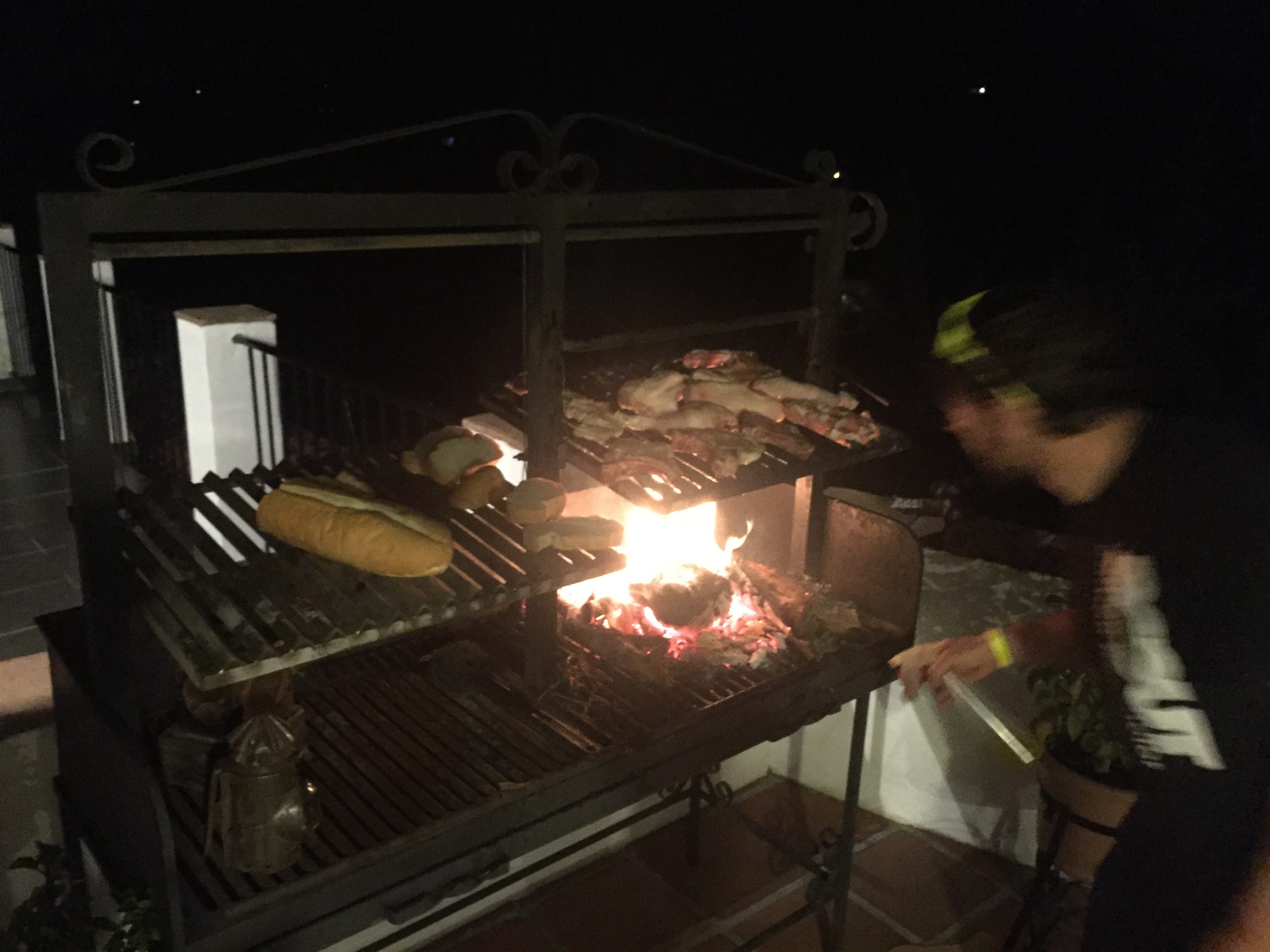 Wishing we could sleep in, we just had too much to do and ended up joining Zahra and Miro near the town square for breakfast and of course coffee.. Wow, the coffee.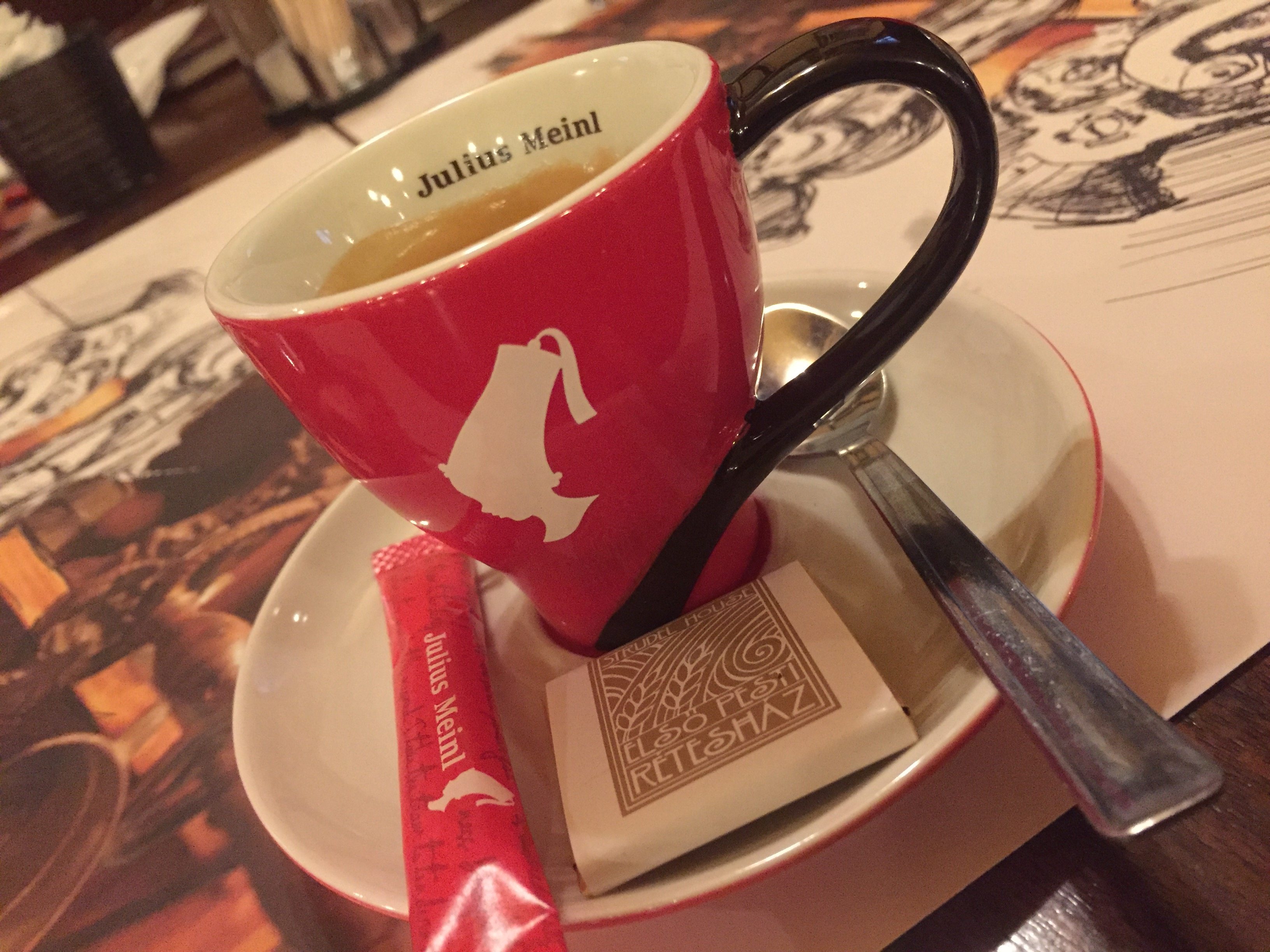 With our bellies full, we were off on a 12 hour drive to Niviuk paramotor wings, just north of Barcelona for a quick meet and greet.  Mireia from team Niviuk gave us the grand factory tour, treated us to lunch and ended up making time to drive us to their local free flight site where Shane was able to slip a quick flight into our tight schedule on the new Niviuk Hook4.  After landing, we quickly said our goodbyes and headed off to spend the night in Barcelona before an early flight the next morning.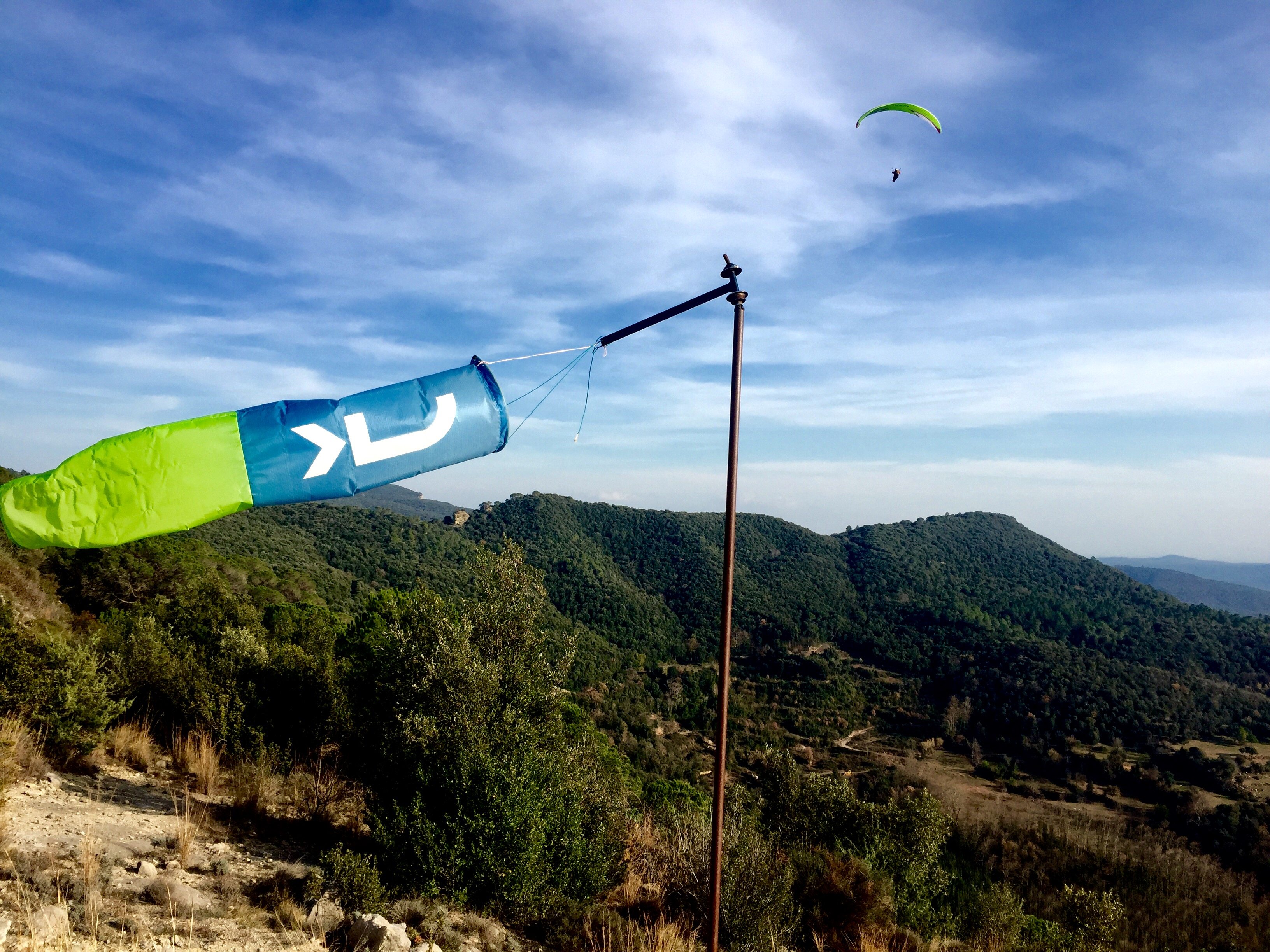 Barcelona is a wonderful city and we enjoyed walking La Rambla, eating local tapas, drinking local wine and of course we had to try the Donor Kababs followed by more coffee, always more coffee.  Early wakeup call the next morning; rush to the airport, re-pack/organize in the parking lot of the rental car return, and then boarded our flight to Budapest!  Miro was waiting to greet us and decided to take us for a quick tour which included lunch and local desserts.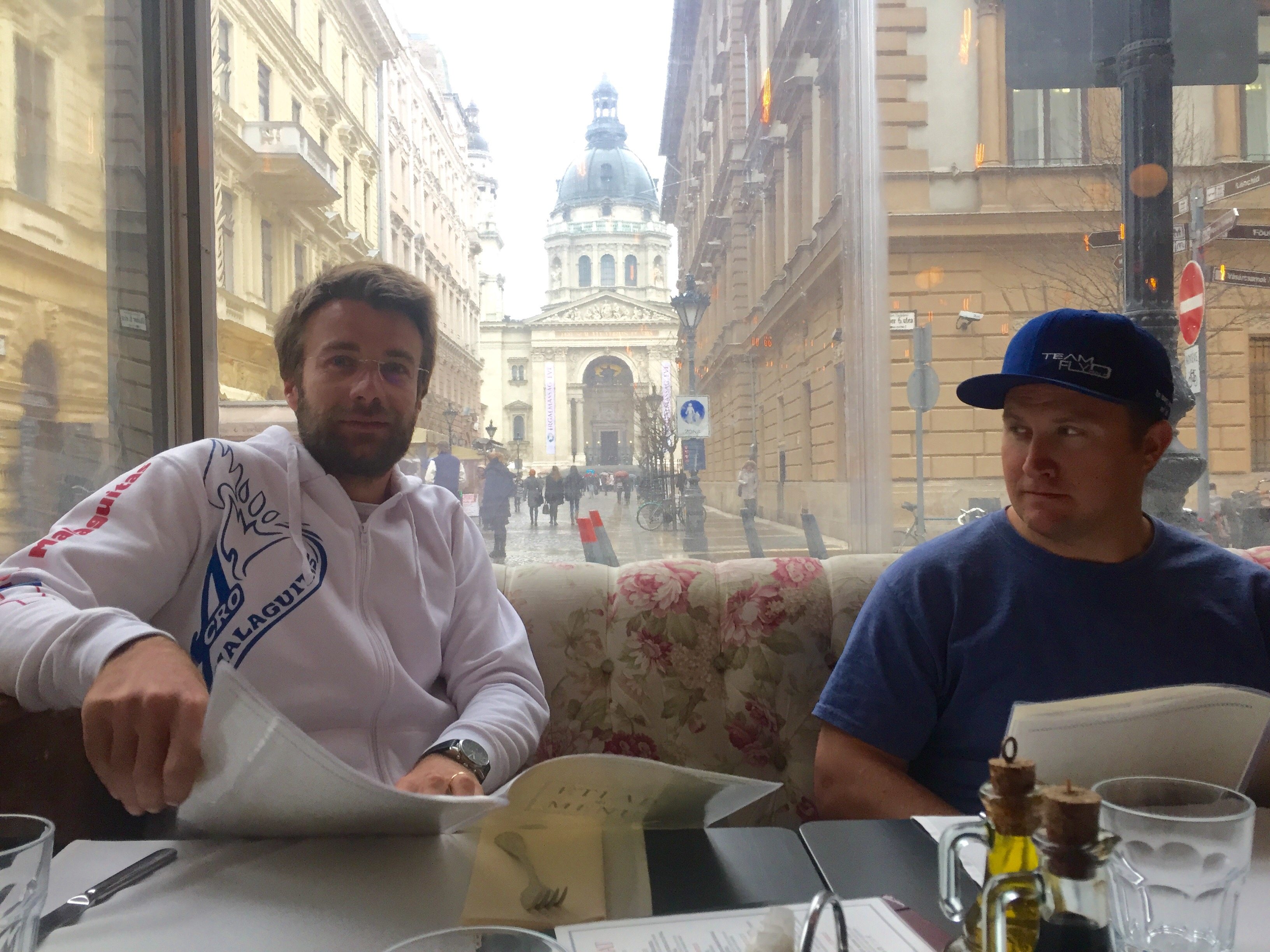 Budapest is only a one hour drive from SCOUT International in Komárno, Slovakia.  Miro hosted us at his house; he and his family were super gracious and inviting.  Our first day in Slovakia involved a tour of the SCOUT facilities as well as their partnering suppliers throughout Slovakia and the Czech Republic.  This is an amazing group of people who work hard to produce their product.  We got a chance to see the carbon being laid into the moulds and have a new appreciation and understanding for the craftsmanship and man-hours it takes to produce each part.   The next day we were off to try and find some scenic SCOUT flying.  Miro checked the weather and decided that we needed to fly Čachtice Castle, a castle known for the Queen who used to bathe in the blood of virgins in hopes of extending her own life.  I was paired up with the EOS 100cc engine mounted on a SCOUT Carbon. With the sun setting soon, we were faced with a tailwind, uphill launch, and 10 pounds of mud stuck to our shoes... it was a challenge that was quickly followed by a huge reward.. THE VIEW!  For both of us, it was our first Castle flight and we were JAZZED!!!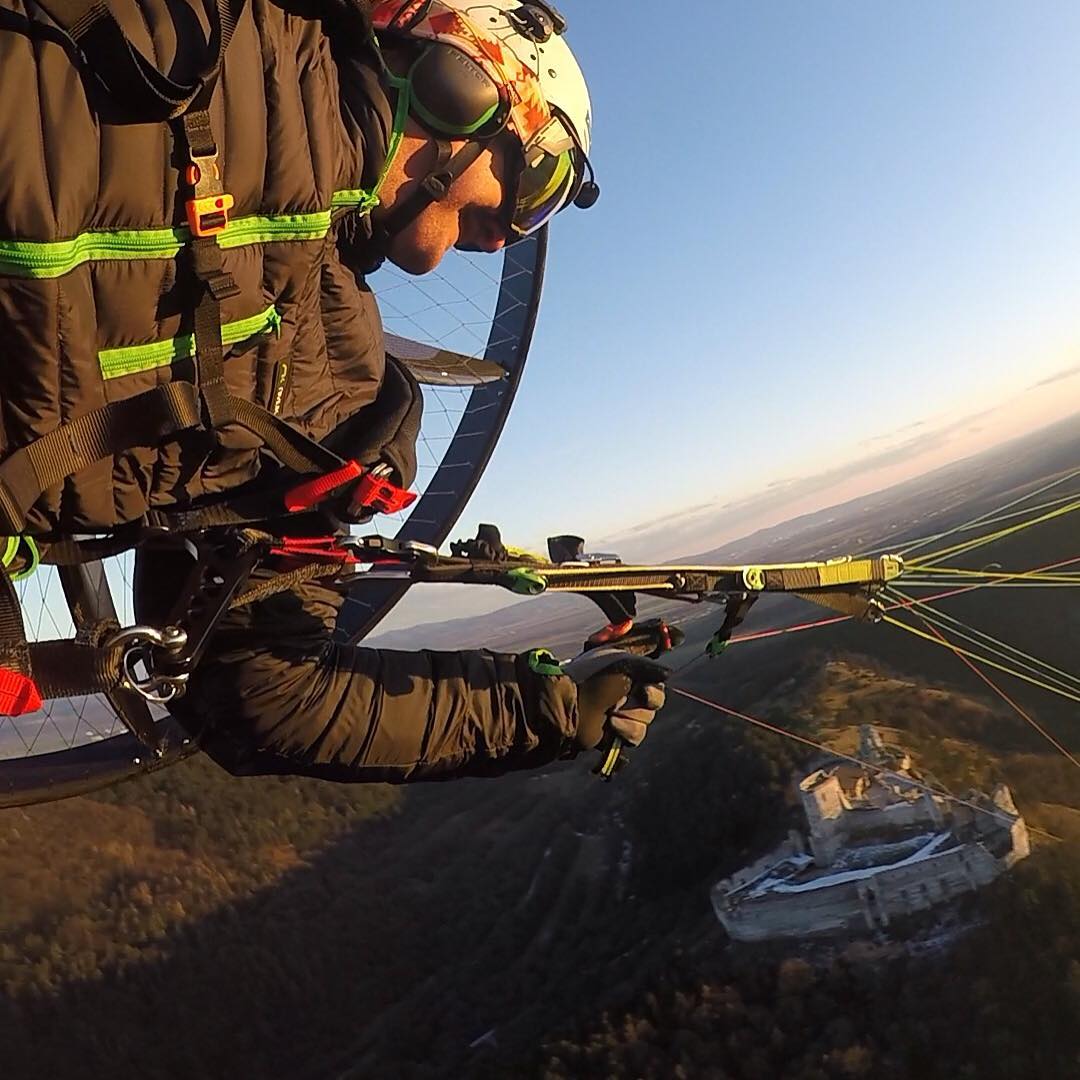 With a few days of Slovakian culture and one good flight, it was time to move on to our next adventure... in London!  Flying from place to place is pretty cheap and the awesome crew at The Adventurists (the ones responsible for the Icarus Trophy) invited us to their annual black tie conference.  The invite was last minute and we were able to clear a few hours in our schedule to squeeze it in:
2:41pm - Arrive Heathrow International Airport, no bags to collect so straight outside to catch an Uber
2:57pm - Uber picks us up from airport and we rush to foggy London town (over 40 minutes away)
4:32pm - Arrive at Mad World Costume shop.  Let's keep in mind this is a black tie event, but the Adventurists are all a bunch of characters.. so we have a sneaking suspicion that we are free to interpret the "black tie" dress code as we see fit.
4:37pm - "You don't have a proper British Safari Man costume?!" I asked the nice employee at Mad World Costumes... rapidly we start thrashing through categories and options.
4:58pm - Costumes put together, bought and bagged.
5:02pm - Uber picks us up and heads straight to the hotel.
5:17pm - Arrive at the hotel.  Our good friend Don McLester split a hotel room with us and had keys waiting at the front desk.
5:29pm - "Properly" dressed with one minute to spare! We were both pretty impressed with our timing and were then greeted by ice cold Gin and Tonics (lucky for us, the conference was in the same building as the hotel).
Those Adventurist guys really throw a great party.  Cheers chaps!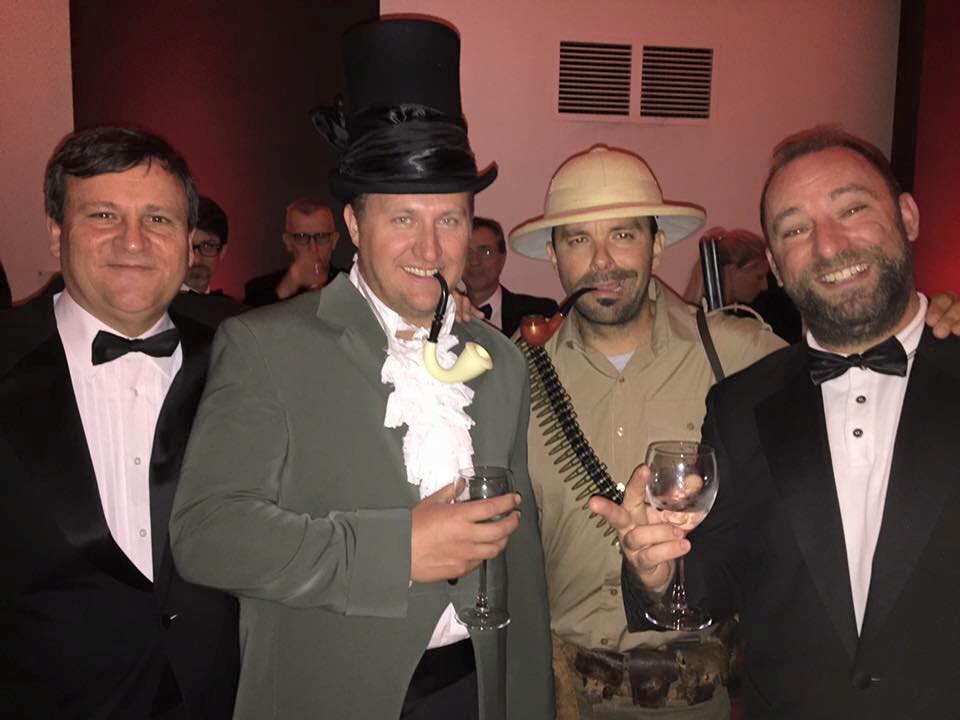 Rarely on this trip did we have time to "relax", but we happened to have some the following day... I think we all needed a little recovery time.  Don McLester joined us for a day of walking around foggy London town and we all enjoyed being tourists, enjoying the local beer, food, and historic sites the city had to offer.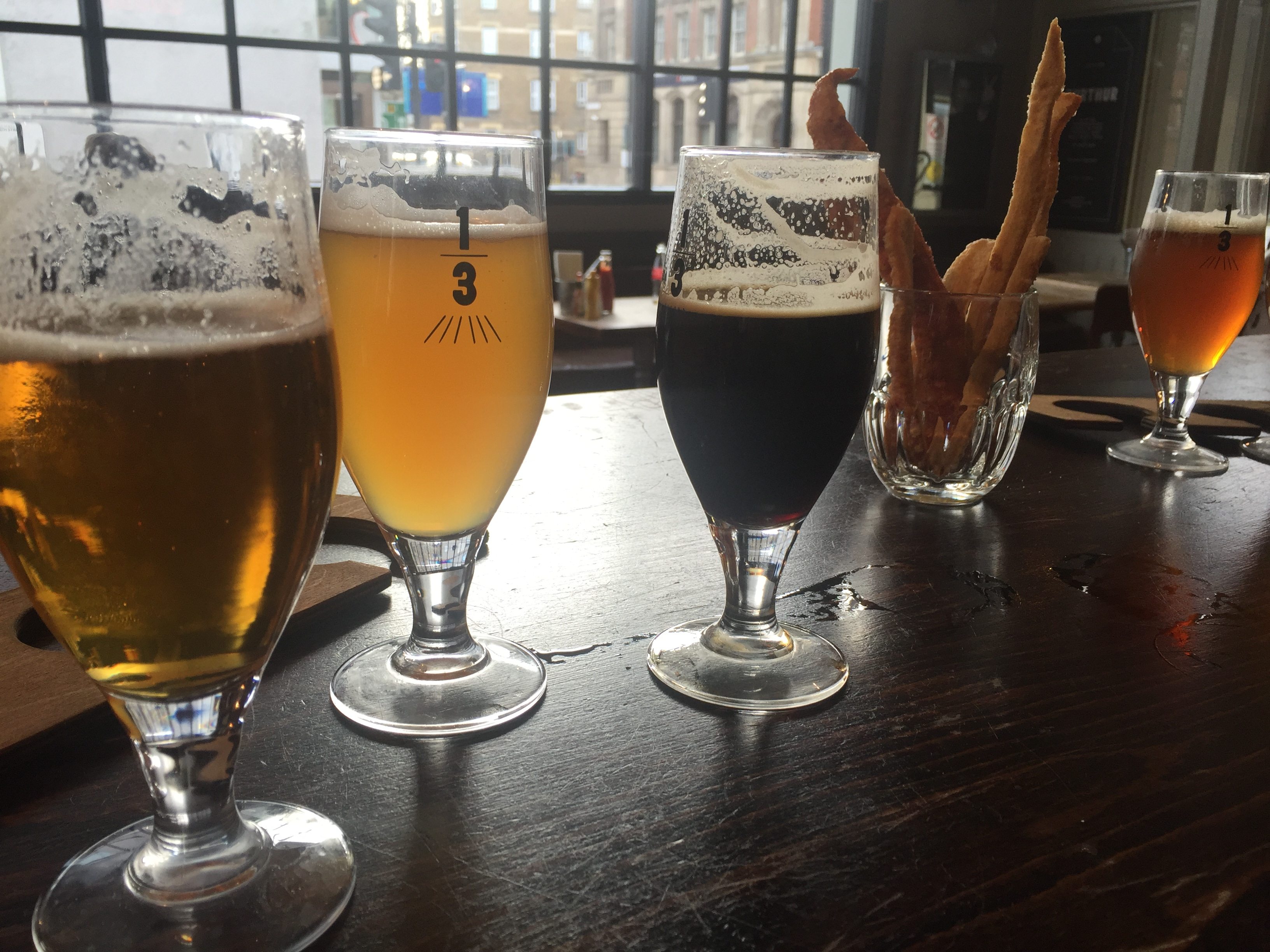 Shane's schedule only allowed him to be away from the States for a little over a week, and the time had come for him to go home.  As Shane split a taxi to the airport with Don, I hopped on a train to Dorset UK  home of ParaJet International.  The train ride in was relaxing with a countryside view of rolling green farmland and small villages.  My train arrived early so I walked down the street into the village and grabbed a coffee, the people here are so warm and inviting.  Tom Prideaux-Brune of ParaJet picked me up and off we were to the ParaJet factory!  I got to sit in something pretty special, the ParaJet Skycar, and I'm not gonna lie.. I was pretending I was James Bond for a split second.  Tom treated me to a great tour of the factory, lunch, force fed me dessert and then I was off to the train depot again to keep my schedule.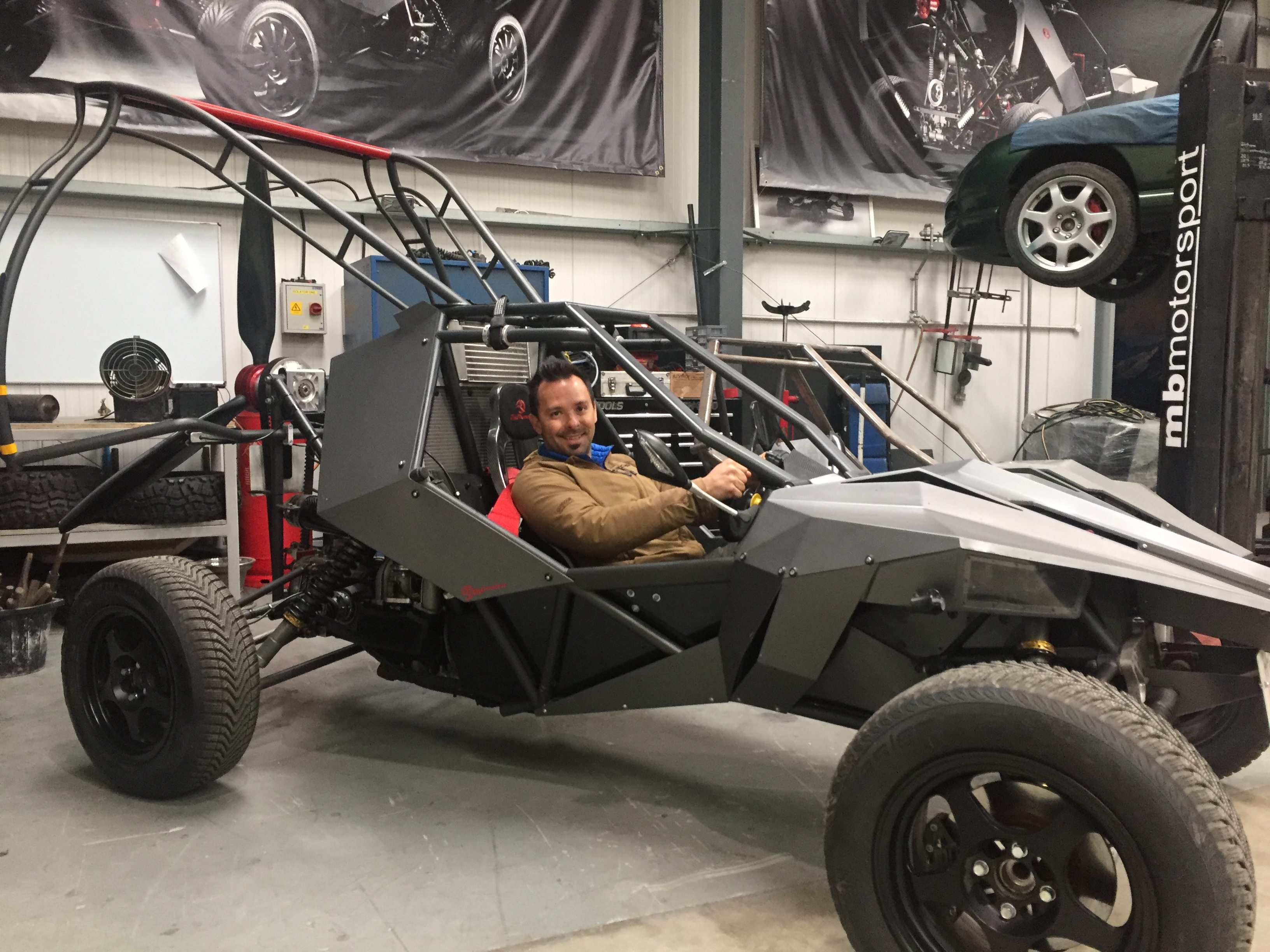 I was headed back to Slovakia.  Miro and I had lots of work to do on some exciting new SCOUT products coming out in 2017, and I was lucky enough to get hands on.  Over the next week we drank coffee, adjusted, tested, re-tested, more coffee, drawing board, theory, practical and on and on.  I love getting involved in R&D and want to thank Miro for including me.  After a long week of work, Miro and I decided that it was time for another flight.  We headed into the heart of Slovakia where our goal was to fly the Castle of Spišský Hrad, supposedly it is/was the largest castle in Europe.  This by far is one of my favorite flights of all time!  I kept telling Miro how lucky he is to have all of these castles in his "back-yard"... just an unreal experience.  The people, country and food of Slovakia are wonderful, so many great villages and hidden pockets to be explored.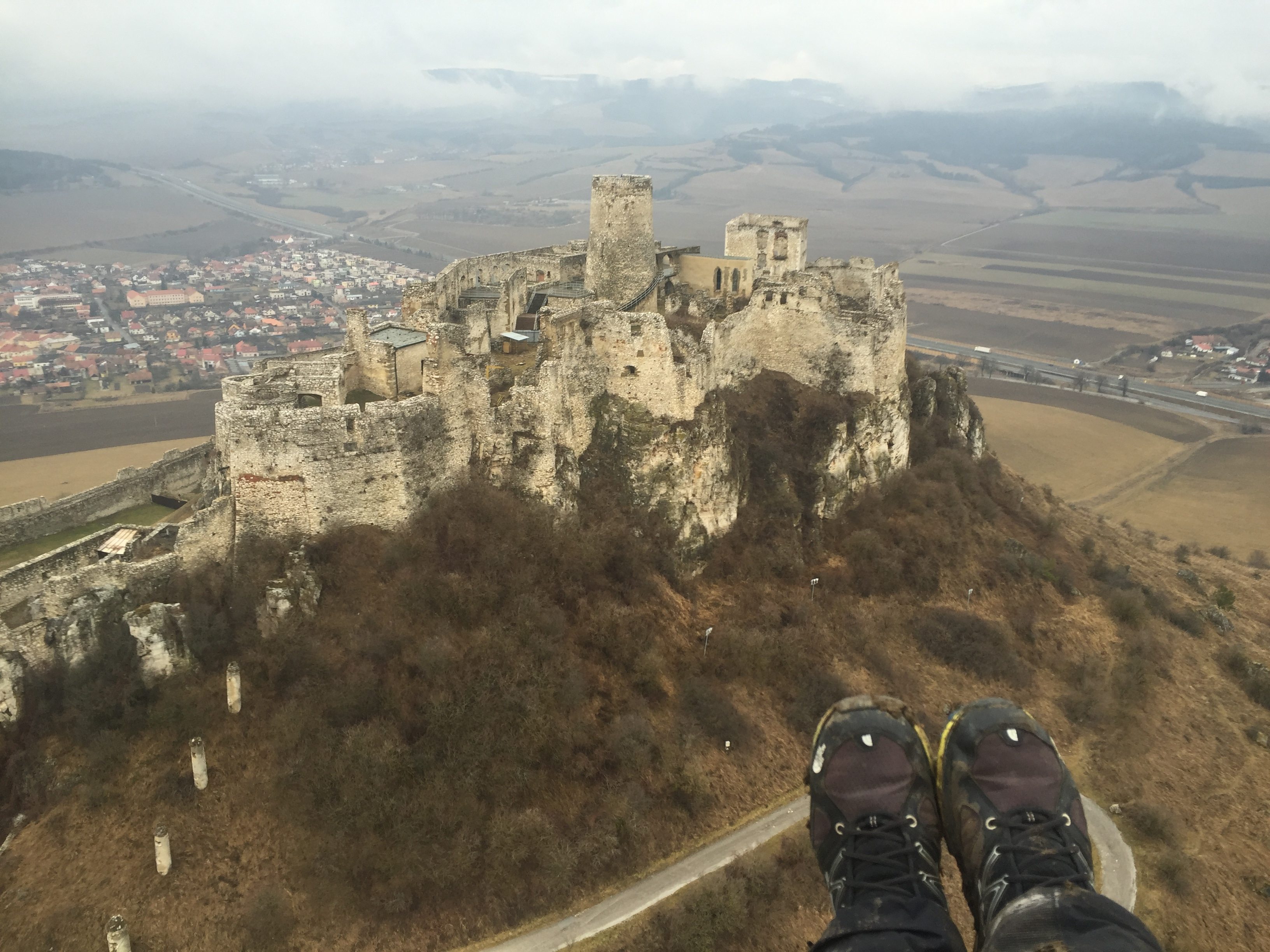 I said my goodbyes to Miro and his lovely family and I was off to the last on the list for the 2016 European factory tour.  My destination was Vittorazi Engines in Morrovalle Italy.  After landing in Rome, the schedule remained tight as I only had 21 minutes to catch a train that would keep me on time to catch the transfer to Morrovalle.  I was severely sleep deprived and was hoping to catch a nap on the 4.5 hour train ride but the countryside was so breathtaking that I couldn't sleep.  If you've never been to Italy, do it if you can, its like a dream.  I arrived the train station at 2:10pm where I was greeted by Alfredo from Vittorazi.  After grabbing a quick snack (and coffee) we were off to Vittorazi for their factory tour.  I was surprised and impressed with the size and operations of this facility.  I had a chance to get a sneak peek of the new Vittorazi Black 185 and a few other exciting products coming out in the near future.  Alfredo answered any and all questions I had from daily operations, build times and delivery.  Business operations were done for the day, so Alfredo and I headed to a restaurant to grab some local eats before meeting with Matteo for dinner.  The next day (Saturday which isn't a normal operating day for Vittorazi) Matteo brought in a technician and the three of us disassembled, inspected and rebuilt a Moster Plus 185.  I've been flying the Moster 185 since it was introduced to the US market, so needless to say, I'm a big fan.  I'm very familiar with this engine.. or at least I thought I was until Matteo explained in detail why each and every component is used and the micro tolerances that have to be maintained even in the crudest parts of the system.  The intricacies of this product blew my mind, and the team at Vittorazi are constantly innovating to keep current in the sport.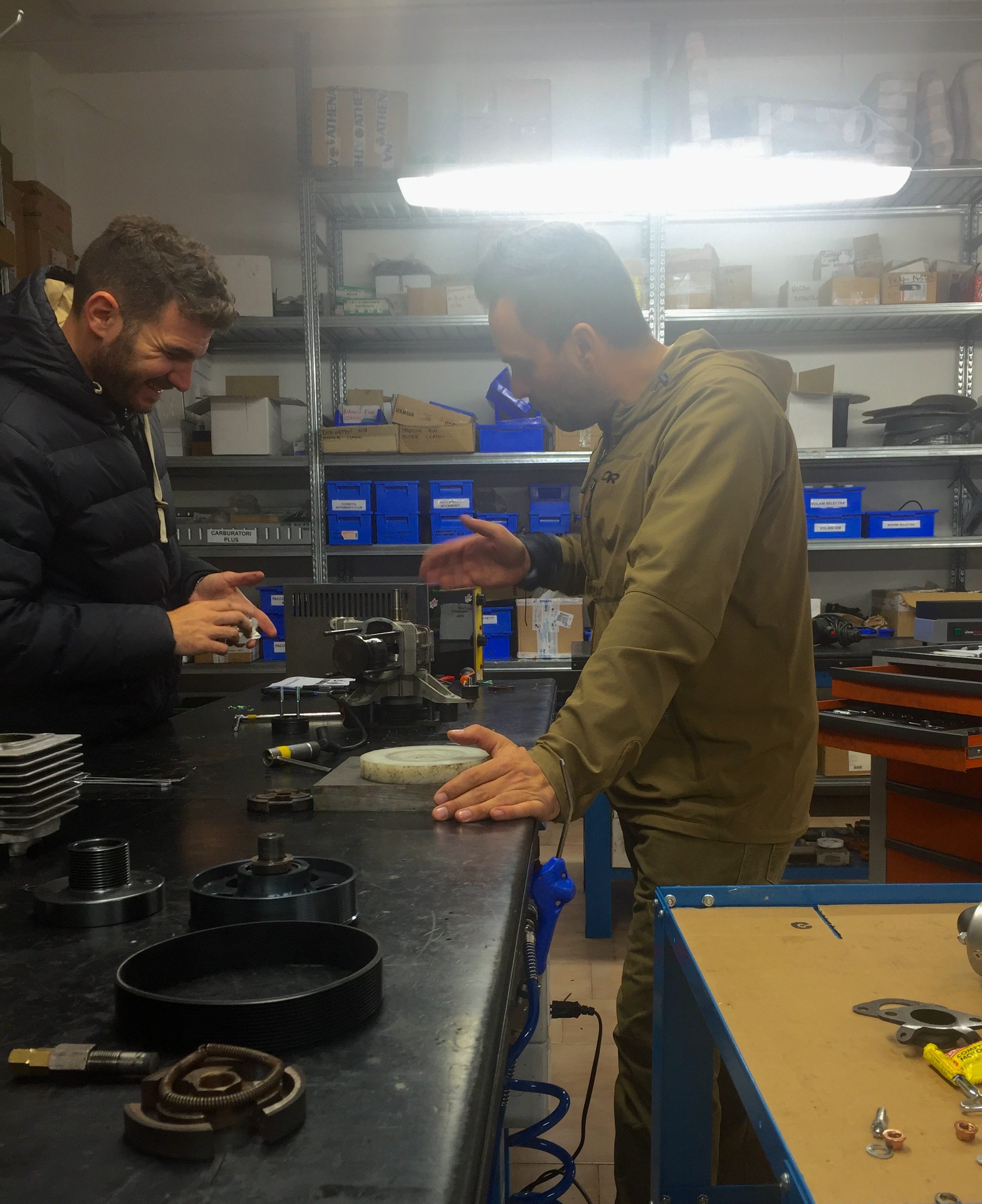 Well, three weeks have passed and the time for me to return home had come.
Our goal at Team Fly Halo has always been and always will be to represent the companies that are making active investments, contributions and deposits into the sport of Powered Paragliding.  I can honestly say that everyone of our suppliers and manufactures that we met with on this trip are actively making this sport better through clean innovation.  SCOUT, Niviuk, ParaJet and Vittorazi are all working towards new and exciting products that will further the safety and fun of this great sport, so keep an eye out!
If you would like to support companies who are actively making this sport better through innovation, give us a call for more information 855-FLY-HALO or email us at [email protected]
See you in the skies!